German carmaker BMW has assured Hungary that its investment in a new factory in the eastern part of the country (Debrecen) remains on track, the cabinet said on Thursday, reacting to a German press report that the difficulties are forcing BMW and Daimler to revisit their investment plans also in Hungary.
German newspaper Handelsblatt reported on Sunday that BMW and sector peer Daimler have embarked on billion-euro factory construction projects in Hungary yet both are under review due to a projected fall in demand.
13/05/2019 1:05pm
German carmakers may rivisit expansion plans - paper
When asked about this, Gergely Gulyás, the Prime Minister's chief of staff, told journalists today that
according to information provided by BMW, the downturn in Germany's automotive sector will not affect the company's investment project in Debrecen in any way.
In the meantime, Daimler has decided to put off the expansion of its Mercedes-Benz plant in Kecskemét.
15/05/2019 10:24am
Expansion of Mercedes plant in Hungary suspended
"I still need to get information about (Daimler), but BMW fully informed us yesterday," Gulyás told a media briefing.
He also noted that in view of the first-quarter GDP data, the cabinet's full-year growth target appears to be attainable.
And he
concurred with László Kövér
, Speaker of the General Assembly, that paedophilia can indeed be compared and likened to LGBT adoption, in that both are
selfish acts
that do not take account of the interests of the child in question.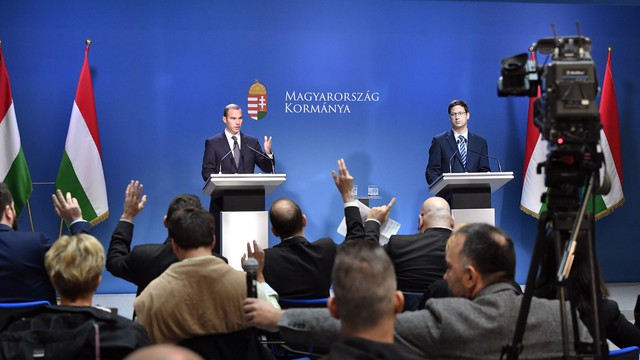 Gergely Gulyás, the PM's Chief of Staff (r) and government spokesman István Hollik hold a media briefing on the PM's Cabinet Office on 16 May 2019. Photo and cover photo by MTI/ Zoltán Máthé