Seasonally adjusted GDP rose by 0.6% in both the euro area (EA19) and the EU28 during the third quarter of 2017, compared with the previous quarter, according to a flash estimate published by Eurostat, the statistical office of the European Union.
In the second quarter of 2017, GDP grew by 0.7% in both zones.
Compared with the same quarter of the previous year, seasonally adjusted GDP rose by 2.5% in both the euro area and the EU28 in the third quarter of 2017, after +2.3% and +2.4% respectively in the previous quarter.
Both the q/q (0.6%) and the yr/yr (2.5% s.a.) data are in line with the consensus estimates of analysts in a Reuters poll therefore they caused no surprise. At the same time, we should highlight that the last time GDP grew even faster on an annual basis in the Eurozone was in the first quarter of 2011, i.e. the Q317 print marks a 6.5-year record.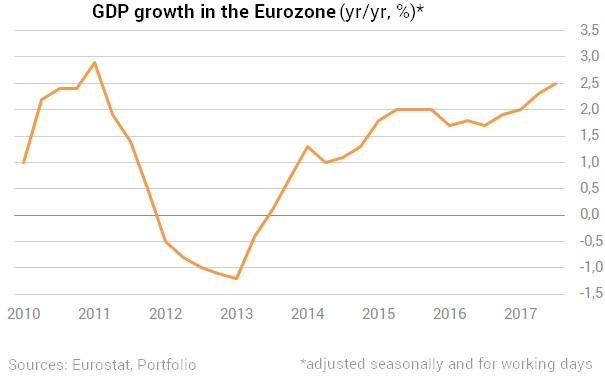 14/11/2017 9:00am
Hungary´s economic growth picks up in the third quarter