The National Bank of Hungary (MNB) has left both its GDP and inflation estimates unchanged in its updated Report on Inflation to be published in its entirety on Thursday. The bank's growth estimate remains 4.4% and its CPI forecast 2.8% for 2018.
The MNB's GDP and CPI estimates are the same both for 2018 and for 2019, as in the previously Report on Inflation published in July. Only the 2020 growth estimate was revised upwardly to 3.0% from 2.8% previously.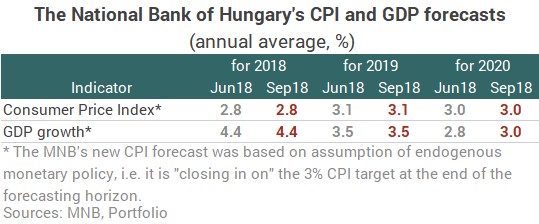 The MNB will release the full Report on Inflation at 10 A.M. on Thursday.