EU Funds 2017
Topics:
Direction and content of new tenders
Main trajectory and objectives of economic development
Main characteristics of the new tender and procurement systems
Business opportunities that may be drawn from strategic directions
Methods of being well-prepared
The role and outlook of the business and EU funding consultancy market
Tender-related funding opportunities
Opportunities created by businesses' lower energy consumption
Directions of using Research & Development & Innovation funds
The situation of the tender and procurement market from a corruption point of view
The Hungarian government intends to launch all EU tenders by the spring of 2017. Amidst such an intensive period it is crucial to have a clear view of the ongoing processes and their impacts. Portfolio's traditional summit 'EU Funds', which is to be held for the third consecutive year, with the participation of Hungary's key development policy makers, is to address the above issues.
Why is the cabinet in such a hurry and how will it be able to allocate 9 trillion forints worth of funds by 2019? What economic and financial impacts will this abundance of funds have, and what will happen to Hungary after all available funds are drawn? What financing opportunities are there to see the planned developments through, and what consultants can do to help ensure sustainable developments? What changes must be kept in sight during pubic procurements, and how will Hungary switch to a fully-fledged e-procurement system? What are the main requirements at Research & Development & Innovation, and at energy efficiency tenders? What opportunities do direct EU funds offer and how are they different from the usual EU tenders?
These are hugely important questions, to which the answers await you at the top-notch 'EU Funds' conference, which offers you not only a high-quality professional agenda, but also an excellent networking opportunity.
SPEAKERS WILL INCLUDE:
János Lázár, Minister, Prime Minister's Office
László Domokos, Chairman, State Audit Office of Hungary
Gergely Fábián, Director, Magyar Nemzeti Bank
Nándor Csepreghy, Deputy Minister, Prime Minister's Office
Alina Tanasa, Deputy Head of Unit, DG Economic and Financial Affairs, European Commission, Luxembourg
Gábor Dányi, Deputy State Secretary, Prime Minister's Office
Tamás Karsai, Deputy State Secretary responsible for the economic development programmes, Ministry of National Economy
Dr. István Csányi, Deputy State Secretary responsible for public procurement supervision, Prime Minister's Office
Dr. Ádám Balog, CEO, MKB Bank Zrt.
Zsolt Halász, Policy Officer - Budapest Office, European Investment Bank Group
Zoltán Kovács MSc, Managing Director, Rekontir BPM Kft.
Tamás Bernáth, Chairman-CEO, MFB Zrt.
László Krisán, CEO, KAVOSZ Zrt.
Viktor Tóth, Deputy Chief Executive, Head of Commercial, Budapest Bank
István Fetter, Head of Trade Finance, Municipalities and EU Services, CIB Bank
Zoltán Bánfi, Managing Director, MKB Bank
Dr. Roland Dányi, Leader of Lending Unit, MAPI Magyar Fejlesztési Iroda Zrt.
László Vulcz, Managing Director, OTP Hungaro-Projekt Kft.
Zsombor Essősy, CEO, MAPI Magyar Fejlesztési Iroda Zrt.
János Lukács, Managing Director, Vanessia Kft.
Zsolt Monszpart, Vice-president, National Research, Development and Innovation Office
István Miklós, Director, Vanessia Kft.
Szonja Csuzdi, Leading expert, National Contact Coordinator, National Research, Development and Innovation Office
Dávid Váczi, Head of Product Sales Support, Budapest Bank
Nándor Kadlok, Managing Director, Equinox Consulting Kft.
Gábor Balás, Executive Director, Hétfa Kutatóintézet
Dr. Pál Varga, Director, AITIA International Informatikai Zrt.
Csaba Mészáros, Chairman - Owner, evopro Holding Zrt.
Dr. Márton Beck, Manager, Femtonics Kft.
PARTICIPANTS OF THE EU FUNDS 2017 CONFERENCE:
ABC Kockázati Tőkealap-kezelő Zrt., AITIA International Zrt., Állami Számvevőszék, ALTEO Nyrt., Asseco Central Europe Magyarország Zrt., Bezenye Községi Önkormányzat, Bódai Műanyag Kft., Budapest Bank, CIB Bank, Delta Systems Kft., Deutsche Leasing Hungaria Pénzügyi Zrt., Enrawell Kft., Eötvös Loránd Tudományegyetem, Informatikai Kar, Equinox Consulting Kft., Ernst & Young Tanácsadó Kft., Erste Bank Hungary Zrt., EURAM Kft., Európai Bizottság, DG EcFin, Luxembourg, European Conformity Check Kft., European Investment Bank Group, evopro Holding Zrt., Femtonics Kft., Garantiqa Hitelgarancia Zrt., Geometria Kft., Glósz és Társa Pénzügyi, Gazdasági, és Innovációs Tanácsadó Kft., Hétfa Kutatóintézet és Elemző Központ, Honvédelmi Minisztérium, HTM Stabil Építő és Szolgáltató Kft., Hungária Med-M Kft., HungaroSzalma Kft., ILCSI Szépítő Füvek Kft., Incubator Kft., Innoprofit Kft., KAVOSZ Zrt., Kollégium a Jövőért Közhasznú Alapítvány, Kormánybiztosság, KPMG Tanácsadó Kft., Magyar Bau Holding Zrt., Magyar Nemzeti Bank, Magyar Posta Zrt., Magyar Vállalkozásfejlesztési Alapítvány, MAPI Magyar Fejlesztési Iroda Zrt., MAVIR Zrt., MFB Zrt., Microsoft Magyarország Kft., Minerva Zrt., Miniszterelnöki Kabinetiroda, Miniszterelnökség, MKB Bank Zrt., MKB Consulting Kft., MNKH Magyar Kereskedelem-fejlesztési és Promóciós Kft., MOL Nyrt, MultiContact Consulting Kft., MVM NET Zrt., Nati Kft., NAVEX, Nemzetgazdasági Minisztérium, Nemzeti Fejlesztési Minisztérium, Nemzeti Kereskedőház, Nemzeti Kutatási, Fejlesztési és Innovációs Hivatal, Nitrogénművek Zrt., Országos Roma Önkormányzat, OTP Agrár, OTP Hungaro-Projekt Kft., OTP Jelzálogbank Zrt., OXO Ventures Zrt., Pannonia Ethanol Zrt., PÁTOSZ, Perlit-92 Bányászati és Feldolgozó Kft., Raiffeisen Bank Zrt., Rekontir BPM Kft., Rekontir Hostess, Soter Line Oktatási Központ Kft., Stanton Chase Hungary Kft., Swietelsky Magyarország Kft., Szabó-Vasvári Kft., Szerencsejáték Zrt., Szervin Kft., Szikszói Ipari Park Kft., Takarékbank, Tender-Network Zrt., TendEx Group Kft., Transparency International Magyarország, Vanessia Kft., Világgazdaság...
THE EVENT:

DATE: 23rd March 2017, Thursday (08:20-17:30)
PLACE: Kempinski Hotel Corvinus Budapest (1051 Budapest, Erzsébet tér 7.)
Hotel Information, Map & Location
We cannot provide free parking space.
COST: HUF 84.900 + VAT / Person
Early bird tickets: HUF 74.900 + VAT / Person - in case of registration prior to 9th March 2017 24:00. The participation fee following this date is HUF 84.900 Ft + VAT / Person.
DISCOUNTS: 20% on 5 or more registrations
Fee includes: conference documentation, full lunch and coffee breaks. The conference is bilingual with English-Hungarian simultaneous interpretation.
Number of participants: 200-220
Our conference is expected not only to provide an opportunity to expand the participants' knowledge base, but also to create an excellent forum for high-level networking and the forging of new professional relations. Our goal is more than just to organise another cut an dry event; we strive to make this conference a regular, interactive and international forum that keeps its finger on the pulse of the market.
Our goal is to create a forum where decision makers, academics, economic experts, market players and corporate leaders can discuss these issues together, evaluate the situation and have a debate on what short-term and long-term solutions they find best.
Who should attend?
The conference may provide essential information to
economic and business policy makers
state and municipal policy makers
representatives of regulatory and supervisory bodies
operators on the banking and funding markets
tender experts, project managers
leaders of businesses planning investments and developments
representatives of consultancies
players on the procurement market
development policy experts
representatives of the R&D&I sector
representatives of energy efficiency companies
officials of professional organisations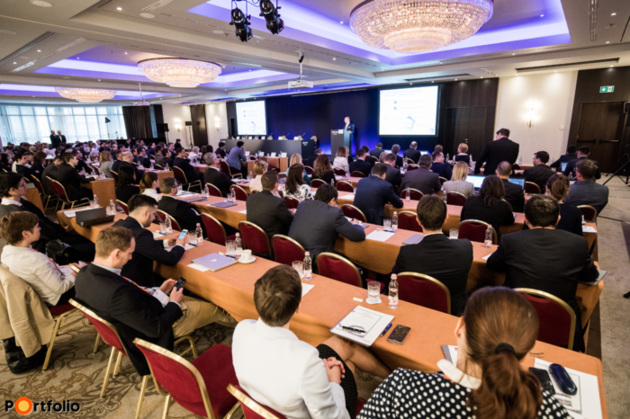 EU Funds 2017 | 46 photos
ADDITIONAL INFORMATION:
Program:
Attila Weinhardt , Analyst, Phone: +36 1 428 9060, E-mail: weinhardt@portfolio.hu

Sponsorship:
Sándor Takács , Commercial Director, Phone: +36 1 428 9094, E-mail: takacs@portfolio.hu

Organisation, general questions:

EU Funds 2017
2017.03.23
Moderators:
Speakers:
EU Funds 2017
2017.03.23
Print events
Registration
Section I – Main directions of Hungary's development policy
Section II – Development policy and financing – A cornucopia of opportunities
Section III – Intense tendering and its key characteristics – Is this a last-ditch effort?
Section IV – New financing opportunities on the horizon
EU Funds 2017
2017.03.23
84 900 HUF + VAT/person
275 EUR + VAT/person
We will send a confirmation email in the case of online registration. (The data and the "Conditions of Registration, Payment and Cancellation" have to be accepted during registration.) We will send a Fee Requesting Notice by email based on the data that are approved in the course of registration after the acceptance the "Conditions of Registration, Payment and Cancellation". The fee has to be paid within 8 workdays of the confirmation of the registration. The invoice will be issued after payment. We will post the invoice to you to the address that is given in the registration. An online application is classified as an order. Paying the participation fee in advance is a prerequisite of participating at the event. We accept cancellations and provide a full refund - EXCLUSIVELY IN WRITING at the address of conference@portfolio.hu - till 12 hours on the fifth workday before the event. In the case of cancellations made after this time the participation may be assigned, but the complete fee has to be paid. We are not in a position to accept cancellations made via phone or in any other verbal form. It is not possible to cancel participation in the case of registrations that are made after the cancellation deadline. In the case of registrations made 1 or 2 workdays before the event it may happen that the transfer of the participation fee will not be credited to our bank account yet, therefore in this case it is possible to transfer the fee on the first workday after the event. Since online applications are classified as orders, we are not in a position to accept ex post complaints - including absence from the event, because of the lack of transferring the fee - after the cancellation deadline. The complete fee has to be paid in this case as well - provided no written cancellation was received by us till the cancellation deadline.
Ilyen volt az év ingatlanos eseménye
2015. november 24-én immár tizenegyedik alkalommal rendeztük meg a hazai ingatlanpiac legfontosabb szakmai rendezvényét, a Portfolio Property Investment Forum konferenciát.
...
More videos...
Business and Finance Summit 2017
The first coorganised conference of the Credit Management Group and the Portfolio
More galleries...