Hungary's forint was spectacularly underperforming in Central and Eastern Europe on Monday, hitting a two-year low against the euro. It kicked off Tuesday's session north of 321, while the US dollar is finding its footing versus the single European currency and the exchange rate started to head south after hitting 1.18. The forint started to firm approaching noon and it was back south of 320 in the early afternoon.
Great run for the HUF - 13:30
The forint has firmed further against key currencies in the early afternoon. EUR/HUF is currently around 319.50, which means the forint has worked off its losses it had yesterday.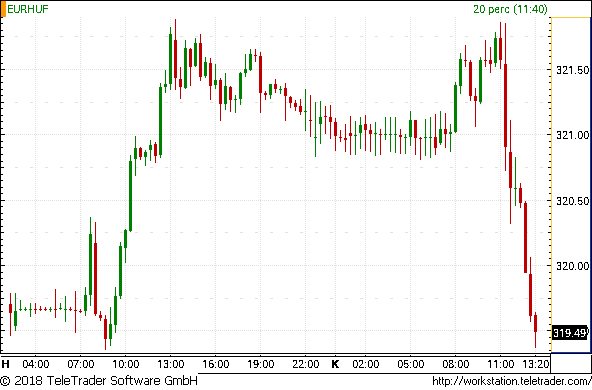 USD/HUF is currently at 271.40, while CHF/HUF is at 275.50.
Forint rebounding - 11:46
Approaching noon the forint has started to appreciate versus the euro and is currently at 320.60.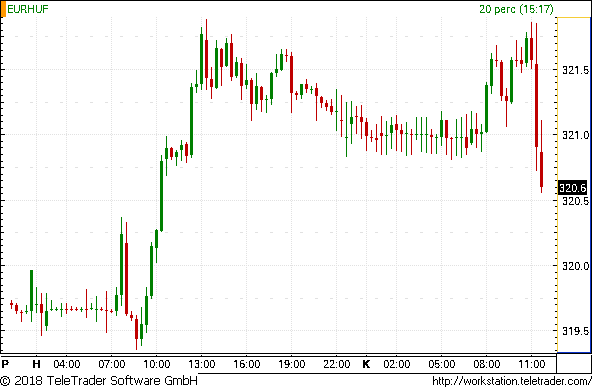 Investor sentiment is buoyed by experts considering the meeting between U.S. President Donald Trump and North Korean dictator Kim Jong-un successful.
HUF weakening- 11:02
The forint is still on wobbly feet and it is currently quoted at 321.70 versus the euro.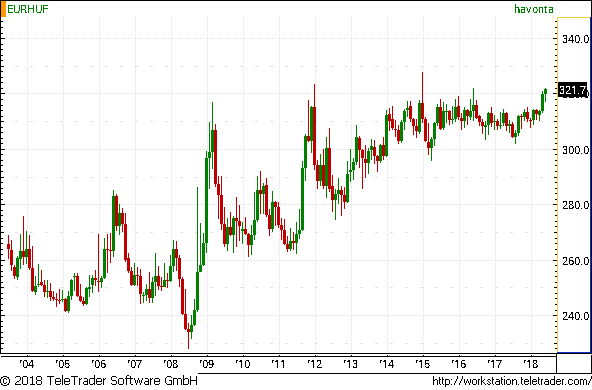 According to analysts at Raiffeisen Bank in Budapest, there is "no resistance" for the HUF until 325-327 so it may depreciate further easily in the following days. They believe the central bank (MNB) will not make a move just yet in relation to the weakening forint.
The forint reached its all-time low versus the euro in January 2015 at 327.60.
Hungary forint suffers a blow on Monday, it is still staggering - 08:41
On Tuesday morning, the Hungarian currency was quoted at 321.57, 0.2% lower than its Monday close. In the second half of the day yesterday, EUR/HUF was close to 322, and the forint came back from there a bit in the evening. The HUF is currently quoted at 273.24 to the USD and at 365 versus the GBP.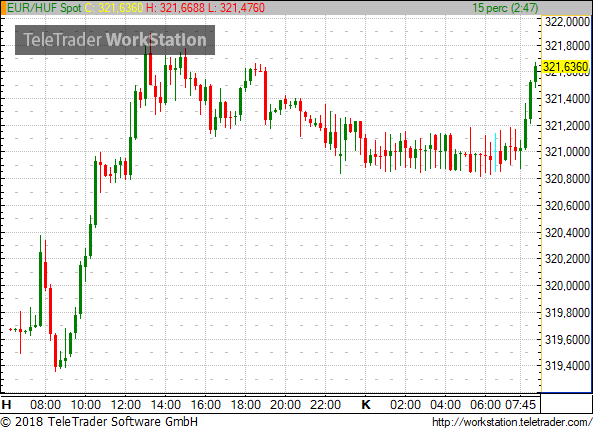 As regards the forint's regional peers, Poland's zloty has weakened in tandem with the forint - unlke on Monday - and is now 0.1% lower, while the Czech koruna firmed marginally. On emerging markets, Russia's rouble eased 0.2% to the USD, Turkey's lira shed 0.5% and South Africa's rand also weakened 0.5%.
The dollar shows 0.2% appreciation after a meeting by U.S. President Donald Trump and North Korean dictator Kim Jong-un, and is currently quoted at 1.1764 to the euro, after being quoted north of 1.18 on Monday. Meanwhile, Japan's yen weakened by 0.3% to the USD, and the British pound shed 0.2%.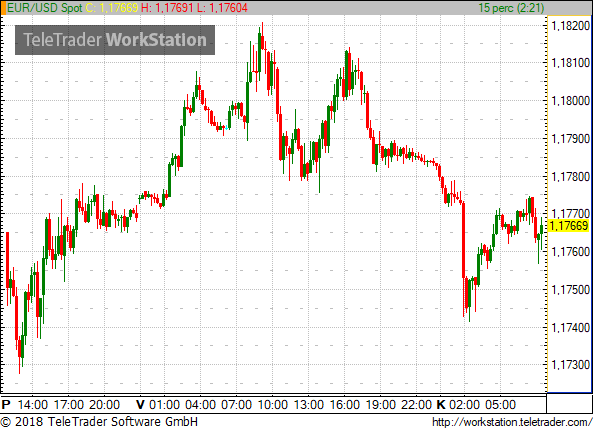 In the second half of the day, we might want to keep an eye on inflation figures to be published in the United States, to be followed by policy meetings by the Fed (Wednesday) and the European Central Bank (Thursday) that could have an impact on EUR/USD.