Financial IT 2017
Topics:
Most important IT project for banks this year: instant transfer system
Preparation for the open bank – PSD2 and GDPR are around the corner
Introducing the Hungarian fintech sector – Which ones are the most promising companies?
Data analysis, telematics, self-driving cars and digitalization at insurance companies – Insurtech in Hungary
Something has finally broken the ice in the Hungarian financial sector: financial institutions started to notice the small, but agile fintech and insurtech companies which come up with salient ideas. In addition, the supposed enemies apparently see opportunities in each other. Portfolio's conference might just be the place of turning meaningful encounters into grand businesses this year. After all, there will be leaders of fintech and insurtech companies, senior business and IT management of banks and insurance companies, and representatives of regulators discussing the hottest topics at the event. The digitalization of internal processes, the cyber security of financial institutions, fraud detection, blockchain, the replacement of core systems and innovative payment solutions will be on the agenda, as well. Not to mention that regulators also generate prominent IT projects in the bank sector. 2017 – among others – will be about the preparation for PSD2 and instant payment in the SEPA area , as well as about the MNB's instant bank transfer system.
PARTICIPANTS OF THE CONFERENCE WERE:
AP Wilson Limited, ApPello Kft., ARDINSYS Zrt., Banksoft Kft., BÁV Faktor Zrt., Binarit Informatikai Zrt., BISZ, Blueopes, BnL Growth Partners, Brokerchooser, Budapest Bank Zrt., Business Process Consulting Zrt., Café PR Kft., Capture Zrt., CIB Bank, Citibank Europe PLC Magyarországi Fióktelepe, City-Faktor Zrt., CMS Budapest, Concorde Értékpapír Zrt., Danubius Expert Zrt., Deloitte Legal Erdős és Társai Ügyvédi Iroda, Deutsche Bank Hungary Branch, dr. Nagy Krisztina Anna Ügyvédi Iroda, EBRD, EQL Soft. Kft., Erste Bank Hungary Zrt., Euroventures Zrt., Excellence Trade Kft., EY, Faludi Wolf Theiss Ügyvédi Iroda, Festipay Zrt., FHB Bank Zrt., FinTech Group, FŐGÁZ Zrt., Fundamenta, Generali Biztosító Zrt., Genertel, Gere Ügyvédi Iroda, GIRO Zrt., Grant Thornton Corporate Finance Kft., Grape Solutions Zrt., Groupama Biztosító Zrt., Hunguard Kft., HWSW.hu, ICON, Initon, Intrum Justitia Követeléskezelő Zrt., IVSZ, K&H Biztosító, KPMG Tanácsadó Kft., L&P Solutions Kft., Lakatos, Köves és Társai Ügyvédi Iroda, Limitless, Lippert Kft., LocalTime PR, Loxon Solutions, Magyar Cetelem Bank Zrt., Magyar Kártya Zrt., Magyar Nemzeti Bank, Magyar Posta Biztosító Zrt., Mastercard Europe, McKinsey & Company, MFB Zrt., Microsec, Microsoft Magyarország Kft., Miskolci Egyetem GTK, MKB Bank Zrt., MKB Inkubátor Kft., Nemzeti Mobilfizetési Zrt., NHB Növekedési Hitel Bank Zrt., NN, Omikron Magyarország, Omnit Solutions Kft., Oracle Hungary Kft., Országos Fizetési Szolgáltató Zrt., OTP Bank Nyrt., OTP eBIZ Kft., Önkéntes Kibervédelmi Összefogás (KIBEV), Partnerhub Zrt., Pont Systems Zrt., PortfoLion Kockázati Tőkealap-kezelő Zrt., Posta Biztosító, PricewaterhouseCoopers Magyarország Kft., ProCons Kft., Pwc, Quattrosoft Kft., Raffeisen Bank Zrt., Referendum Kft., Retail House Kft., Sberbank Magyarország Zrt., ShiwaForce.com Zrt., Smartsurance Technologies Kft., Stratis Kft., SZIN Informatikai és Tanácsadó Kft., Takarékbank, Tangram Bt., TrezEx Hungária Zrt., T-Systems Magyarország, Unger Zsolt Kft., UniCredit Bank Hungary Zrt., UniCredit Business Integrated Solutions, Visa Europe, VISZ, Vodafone Hungary, W.up, Wyze...
THE EVENT:
DATE: 30th May 2017
LOCATION: SOFITEL Budapest Chain Bridge Hotel, Budapest, Hungary
Hotel Information, Map & Location
Parking: individually paid
Number of participants: 180-200
Language: Hungarian
Participation fee: HUF 84 900 + VAT / person or EUR 275 + VAT / person
Discount:
20% on 5 or more registration
Who should attend?
The conference may provide essential information to
For banks, assurance and brokerage companies
IT development and IT security companies
card companies, ATM operators, POS terminal operators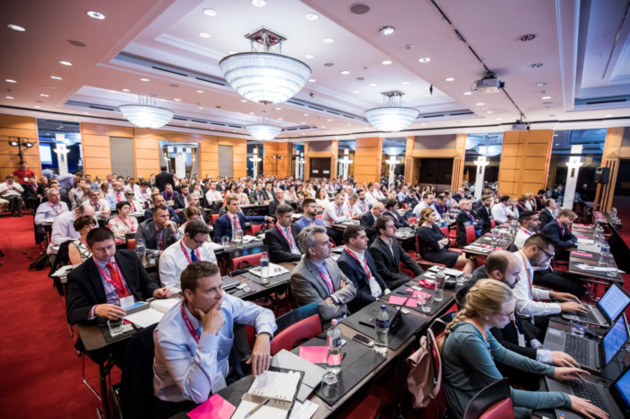 Financial IT 2017 | 48 photos
ADDITIONAL INFORMATION:
Program:
Ádám Pál Turzó , Analyst, Phone: +36 472 2093/42, E-mail: turzo@portfolio.hu

Sponsorship:
Judit Lippai , Key-Account Manager, Phone: +36 1 327 4080/88, E-mail: lippai@portfolio.hu

Organisation, general questions:

Financial IT 2017
2017.05.30
Moderators:
Speakers:
Financial IT 2017
2017.05.30
Print events
Registration 08:00-08:35
Section I: Neo-banks and digi-banks in Hungary
Section II: The digital revolution has reached insurance companies
Section III: Cyber security in the financial sector
Section IV: Introduction of the Hungarian fintech sector – Here are the most promising companies
Financial IT 2017
2017.05.30
84 900 HUF + VAT/person
275 EUR + VAT/person
We will send a confirmation email in the case of online registration. (The data and the "Conditions of Registration, Payment and Cancellation" have to be accepted during registration.) We will send a Fee Requesting Notice by email based on the data that are approved in the course of registration after the acceptance the "Conditions of Registration, Payment and Cancellation". The fee has to be paid within 8 workdays of the confirmation of the registration. The invoice will be issued after payment. We will post the invoice to you to the address that is given in the registration. An online application is classified as an order. Paying the participation fee in advance is a prerequisite of participating at the event. We accept cancellations and provide a full refund - EXCLUSIVELY IN WRITING at the address of conference@portfolio.hu - till 12 hours on the fifth workday before the event. In the case of cancellations made after this time the participation may be assigned, but the complete fee has to be paid. We are not in a position to accept cancellations made via phone or in any other verbal form. It is not possible to cancel participation in the case of registrations that are made after the cancellation deadline. In the case of registrations made 1 or 2 workdays before the event it may happen that the transfer of the participation fee will not be credited to our bank account yet, therefore in this case it is possible to transfer the fee on the first workday after the event. Since online applications are classified as orders, we are not in a position to accept ex post complaints - including absence from the event, because of the lack of transferring the fee - after the cancellation deadline. The complete fee has to be paid in this case as well - provided no written cancellation was received by us till the cancellation deadline.
Ilyen volt az év ingatlanos eseménye
2015. november 24-én immár tizenegyedik alkalommal rendeztük meg a hazai ingatlanpiac legfontosabb szakmai rendezvényét, a Portfolio Property Investment Forum konferenciát.
...
More videos...
Business and Finance Summit 2017
The first coorganised conference of the Credit Management Group and the Portfolio
More galleries...