Early bird price until 5th May! - Join us today!
Automotive Industry 2017
Topics:
Executives' roundtable: Solutions of the future in the present of the vehicle industry
Digital shift in practice: what should be kept in mind when planning and implementing a development project? Corporate case studies
Advancing of the IT sector, the appearance of IT companies in the supply chain
Labour market roundtable – How would we imagine the "company of the future" besides the expansion of digitalization and tech-companies?
Alternative drive modes - autonomous and electric cars
Alternative "energies" in the vehicle industry: renewable resources and energy efficiency in production
Western civilization has experienced three industrial revolutions so far - after the steam engine, the assembly line and automation the new, fourth industrial revolution is taking place today. The latest industrial revolution is about physical machines and objects connecting into an information network, real economy is integrating into a single, giant intelligent information system. Industry 4.0 is capable of giving answers to the challenges of the newfangled revolution, primarily to the total digitalization of the industrial processes. It is, however, not only about the spread of technology, but also about the paradigm shift of business processes - new job roles, new products, supply chains, production processes come into being and IT knowledge is becoming even more valuable. And who stays out misses out.
Therefore, it is not by chance that those wishing to keep their competitiveness are planning to grow quickly in this area: there is an increased demand on the smart business solutions of the future, the presence of IT companies in the supply chains is becoming more pronounced and we are getting closer and closer to self driving cars becoming available on the market. The joint conference of Portfolio and MAGE 4 will be about where this technological-innovation zugzwang will lead the motor vehicle industry, about what effect it will have on the labour market and about how the sector can prepare for the challenges of the digital competition.
OUR SPEAKERS WILL INCLUDE:
Dr. László Palkovics, Secretary of State Responsible for Higher Education, Ministry of Human Resources
Csaba Kilián, CEO, Association of the Hungarian Automotive Industry (MAGE)
István Gödri, Managing Director, AVENTICS Hungary Kft.
Dr. Tibor Péhl, Plant Manager, Arconic-Köfém GRP-BCI
Dr. Oliver Schatz, Senior Vice President Technical, Robert Bosch Kft.
Balázs Sebestyén, DCS Cluster Dorector – East-Europe, Managing Director, Delphi Connection Systems Hungary Kft.
Péter Pázmándi, Regional Sourcing Director, SMR Automotive Mirror Technology Hungary Bt.
Attila Posta, Partner, T-Systems
Aladár Virág, Business Operations Manager, T-Systems
Representative of Commsignia
Ákos Dömötör, Chief Executive Officer, OptoForce
Antal Oláh, Regional director IT Systems - District Hungary & Russia, Knorr-Bremse Fékrendszerek Kft.
Árpád Takács, Outreach Scientist, AI Motive
Imre Szepessy, Department Leader - E/E Advanced Development, thyssenkrupp Steering
Gábor Túry, research fellow, Institute of World Economics, Centre for Economic and Regional Studies, Hungarian Academy of Sciences
PARTICIPANTS IN 2016:
ABB Kft., AdasWorks Kft., Alap Európa Quality, Alap Európa Fejlesztő és Tanácsadó Kft., Assix Kereskedelmi és Logisztikai Zrt., Audi Hungaria Független Szakszervezet, AUDI Hungaria Motor Kft., Autopro.hu, BEKO Engineering Kft., BanKonzult Kft., BASF Hungária Kft., BI-KA Logisztika Kft., Bizerba Kft., BPW - Hungária Kft., Böllhoff Kft., Budapest Lízing, Budapest Bank, Cad-Terv Mérnöki Kft., Colliers International Hungary, Com-Forth Ipari Informatikai Kft., Continental Csoport-Magyarország, DENSO Manufacturing Hungary, DS Smith Packaging Hungary Kft., Duvenbeck Logisztikai Kft., Engin-Solv Mérnöki Kft., Emberi Erőforrások Minisztériuma (EMMI), Erős Ügyvédi Iroda / Squire Patton Boggs (US) LL, evopro Holding Zrt., Fémalk Zrt., Ferzol Lemezmegmunkáló Kft., FERRO-TOOL Zrt., FHB Bank Zrt., FHB Lízing Zrt., Fitting-Ker Kft., Flextronics, Franciska Termény Imput Kft., Formeld Magyarország Kft., Fuchs Oil Hungária Kft., Ganzair Kft., GDF SUEZ Energia Holding Hungary, GrayMatter, Green Packaging Kft., HAJDU Autotechnika Ipari Zrt., Happ Kft., Hays Hungary Kft., HM Currus Zrt., HOLLEN Hungária Kft., Hungexpo, IKB Leasing Kft., Infogroup Menedzsment Kft., Informatikai, Távközlési és Elektronikai Vállalkozások Szövetsége - szövetség a digitális gazdaságért, Innopod Solutions Kft., InnoSpectrum Közhasznú Nonprofit Kft., Ispiro Consulting Kft., Invescom Kft., Job Impulse Hungária Kft., Jobsgarden-ITJobs Kft., Kecskeméti Főiskola, Kanadai Nagykovetseg, Knorr-Bremse Vasúti Járműrendszerek Hungária Kft., Kókai Tömítéstechnikai Kft., KPMG in Germany, KPMG Tanácsadó Kft., Königfrankstahl Kft., Kühne+Nagel Kft., Lear Munkavállalók Szakszervezete, LuK Savaria Kft., MÁV Magyar Államvasutak Zrt., Macher Kft., Marsh Kft., Maltacourt Hungary Kft., MATRO Kft., MAPI Magyar Fejlesztési Iroda Zrt., Magyar Gázüzemű Közlekedés Klaszter Egyesület, Magyar Gépjárműipari Egyesület, Magyar Nemzeti Bank, Magyar Suzuki Zrt., Magyar Villanyautó Klub, Mercedes-Benz Manufacturing Hungary Kft., MKB Bank Zrt., MTA KRTK VKI, Nefab Packaging Hungary Kft., Nemak Győr Kft., Nemzetgazdasági Minisztérium, Noerr & Társai Iroda, OPEL Szentgotthárd, Pata József Gépipari Kft., Porsche Hungaria Kft., PSA-Peugeot Citroën (Nagyszombat/Trnava), PricewaterhouseCoopers Magyarország Kft., PwC Könyvvizsgáló Kft., QFD Mérnökiroda Kft., Qualimax Group Kft., Quehenberger Logistics HU Kft., Raiffeisen Bank Zrt., Ratipur Kft., Rávezető Projekt Kft., Rekontir BPM Kft., Robert Bosch Elektronika Kft., Rohde & Schwarz Österreich Közvetlen Kereskedelmi Képviselet, Sämling Solution Consulting Kft., Saubermacher-FOCUSON Logistics Kft., SCA Hygiene Products Kft., Shell kenőanyagok, S&T Consulting Hungary Kft., SIMON Műanyag feldolgozó, SKITUS Project Engineering Kft., Smart-Lab Consulting, SGP-Sorting Group Hungary Kft., Snoeks Automotive CZ s.r.o., Takenaka Europe GmbH. Magyarországi Fióktelep, thyssenkrupp Ferroglobus ZRt., thyssenkrupp Steering, Timár-Gumi Kft., TGA Consult Kft., Tequa International Kft., Trenkwalder Personnel Services Ltd., TRIGO CEE, T-Systems Magyarország Zrt., Ungwire Ltd., UniCredit Bank Hungary Zrt., Volvo Hungária Kft., Weinberg 93 Építő Kft., ZF Hungária Kft....
THE EVENT:
DATE: 25th May 2017, Thursday (09.00 - 17.00)
PLACE: InterContinental Hotel (H-1052, Budapest, Apáczai Csere J. u. 12-14.)
COST: Early bird price: HUF 74.900 + VAT / person or 242 EUR + VAT / person (deadline: 05th May, 24:00). Following the deadline the price is HUF 84.900 Ft + VAT / person or 275 EUR + VAT / person
Fee includes: conference documentation, full lunch and coffee breaks.
The conference is bilingual with English-Hungarian simultaneous interpretation.
DISCOUNTS:
20% on 5 or more registrations
20% discount is available for individual MAGE/AHAI members
Discounts cannot be combined!
Our conference is expected not only to provide an opportunity to expand the participants' knowledge base, but also to create an excellent forum for high-level networking and the forging of new professional relations. Our goal is more than just to organise another cut an dry event; we strive to make this conference a regular, interactive and international forum that keeps its finger on the pulse of the market.
OVERVIEW:

Portfolio Conferences are organized by NET Media Inc, member of Central European Media and Publishing Group. Our events cover 7 different industries and attract more than 8000 participants annually and highly renowned for their great opportunities of networking and building business relationships, merely not just giving new professional knowledge. Our aim is not to have a one time occasion event, but creating a yearly international interactive forum about the changes of the market. Find out more on www.portfolio.hu/en or conference@portfolio.hu (e-mail).
Who should attend?
The conference may provide essential information to
The senior management and experts of Vehicle manufacturers – System integrators – Technology suppliers – Raw material producers from the areas of Manufacturing, Engineering, R&D&I, Procurement, Supplier Development, Quality Mangement and HR
Logistics companies
Fintech, insurtech, IT-developer and IT-security companies with connections to the motor vehicle industry
Banks, financial institutions, the representatives for fund providers
Law firms, consultancy firms
Organizations, clusters, regulators from the automobile industry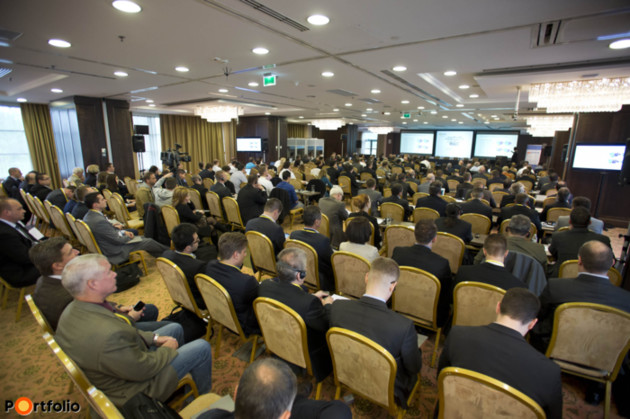 Automotive Industry 2016 | 35 photos
ADDITIONAL INFORMATION :
Program :
Kata Tóth , Event Organiser, Phone: +36 20 386 0751 , E-mail: toth@portfolio.hu

Sponsorship:
Sándor Nyiri , Key-Account Manager, Phone: +36 30 501 9755, E-mail: nyiri@portfolio.hu

Organization, general questions :
Andrea Barabás , event organizer, Phone: 06 20 367 7179, E-mail: barabas.andrea@portfolio.hu

Automotive Industry 2017
2017.05.25
Moderator :
Speakers:
Automotive Industry 2017
2017.05.25
Print events
Registration: 08:30 - 08:55
Section I. You must have technological innovation – It is what drives global and national competitiveness
Section II. Digitalization – how is it applied in business practice and how does it affect supplier development?
Section III. Future challenges: The rise of the IT sector in the vehicle industry and their effect on the labour market
Section IV. R+D+I and alternative "energies" in the vehicle industry
Automotive Industry 2017
2017.05.25
74 900 HUF + VAT/person
242 EUR + VAT/person
Early bird price: HUF 74.900 + VAT / person or 242 EUR + VAT / person (deadline: 05th May, 24:00).
Following the deadline the price is HUF 84.900 Ft + VAT / person or 275 EUR + VAT / person
The fee contains the documentation of the conference, the buffet lunch and the coffee breaks. The conference is bilingual with English-Hungarian simultaneous interpretation.
DISCOUNTS:
20% on 5 or more registrations
20% discount is available for individual MAGE/AHAI members
Discounts cannot be combined!
We do not send any kind of ticket or voucher. Each participant is added to the conference registration list upon online check-in, which also includes the lecturers and the sponsors' guests. The participants will only need a business card and a signature at the conference location, entering the event at the registration desk. Following a quick registration our guests may enter the area of the event.
We will send a confirmation in email in the case of an on online registration. (The data and the "Conditions of Registration, Payment and Cancellation" have to be accepted during registration.) We will send a Fee Requesting Notice in email based on the data that are approved in the course of registration after the acceptance the "Conditions of Registration, Payment and Cancellation". The fee has to be paid within 8 workdays after the confirmation of the registration. The invoice will be issued after payment. We will post to the invoice to you to the address that is given on the occasion of registration. An online application is classified an order. Paying the participation fee in advance is a prerequisite of participating at the event.
We accept cancellations with refunding the complete participation fee - EXCLUSIVELY IN WRITING at the address of conference@portfolio.hu - till 12 hours on workday 5 before the event. In the case of cancellations made after this time the participation may be assigned, but the complete fee has to be paid. We are not in a position to accept cancellations made through phone or in any other verbal form. It is not possible to cancel participation in the case of registrations that are made after the cancellation deadline. In the case of registrations made 1-2 workdays before the event it may happen that the transfer of the participation fee will not be credited to our bank account, therefore in this case it is possible to transfer the fee on workday 1 after the event.
Since online applications are classified as orders, we are not in a position to accept ex post complaints - including absence from the event, because of the lack of transferring the fee - after the cancellation deadline. The complete fee has to be paid in this case as well - provided no written cancellation was received by us till the cancellation deadline.
Apply for the event
Ilyen volt az év ingatlanos eseménye
2015. november 24-én immár tizenegyedik alkalommal rendeztük meg a hazai ingatlanpiac legfontosabb szakmai rendezvényét, a Portfolio Property Investment Forum konferenciát.
...
More videos...
SEE Property Forum 2017