Energy Investment Forum 2016
Topics:
CEO round table – Directions and opportunities in the Hungarian energy sector
Paks II after the environmental licence
Energy foreign policy in the EU, in the region and in Hungary
Trends in the European and Hungarian energy supply, the new Hungarian gas market model
The role of renewable energy in the business' energy supply, METÁR, controlling the e-mobility
The European energy union model, purchasing energy from outside the EU and commerce
The energy supply, as the changing industry from an investor's point of view
The introduction of the new network tariffs
Portfolio is holding its 7th energetics conference on November 8th. Similar to past events, prestigious presenters will touch upon the most important topics concerning the energy market this year. The aim of the event is to discuss the most important decisions of last year with Hungary's decisive opinion leaders, and to find solutions for the challenges that face the industry.
The future of the energy sector, government plans concerning the national public utilities; energy market development priorities, energy foreign policy in the EU, in the region and in Hungary; Paks II. investment and supplier opportunities; trends in the European and Hungarian energy supply, the rise of renewable energy; METÁR, the prospects of the Hungarian gas market; the converging European energy market; energy services from an investors point of view...
Countless present-day topics and questions to which you can get your answers at the Portfolio Energy Investment Forum.
SPEAKERS AND CONVERSATION PARTICIPANTS:
Andrea Beatrix Kádár, Deputy State Secretary, Secretary of State for Energy Affairs, Ministry of National Development
dr. Attila Aszódi, Government Commissioner for the maintenance of the capacity of the Paks Nuclear Power Plant, Prime Minister's Office
László Varró, Chief economist, IEA
Dr. Klaus Müschen, Senior Scientist, Renewables Academy AG (RENAC) Berlin
András Tótth, Deputy CEO, Chief Strategy Officer, MVM Zrt.
Dr. Eric Depluet, CEO, E.ON Hungária
Sándor Fasimon, COO (Hungary), MOL Group
Gergyel Szabó, CEO, MET Hungary
Attila Ságodi, Partner, Head of Sector Government, Infrasctucture, Energy & Utilities, KPMG
Kovács Csaba, Partner, KPMG Energy and Utilities Advisory Services
Dr. Michael LaBelle, professor, Central European University Business School and in the Department of Environmental Sciences and Policy
Dr. Gergyel Légrádi, lawyer, partner, Oppenheim Law Firm
András György Deák, Head of Research Group on Development Economics, Institute of World Economics-HAS
Gábor Farkas, Head of Regulation, E.ON Hungária Zrt.
Balázs Felsmann, Chairman, HETA – Hungarian Energy Traders' Association
Péter Lendvay, President, Magyar Szélenergia Ipari Társaság
Zoltán Vígh, Public Affairs Executive, Jedlik Ányos Klaszter
Dr. Kristóf Ferenczi, partner, Andrékó Kinstellar
ifj. Attila Chikán, CEO, ALTEO Group
Tamás Jászay, Business Development Director, Budapesti Elektromos Művek Nyrt.
László Miklós, Strategy and Corporate Affairs Advisor, FGSZ Zrt.
Lajos Bütösi, Commercial Director, Magyar Gáz Tranzit Zrt.
Tamás Tóth, Head of Department, Hungarian Energy and Public Utility Regulatory Authority
Dr. Péter Kaderják, Director, Regional Centre for Enegry Pilocy Research (REKK)
Zoltán Katona, Managing Director, Uniper Hungary Kft.
Tibor Bacsó, energy advisor, Microsoft
PARTICIPANTS OF THE PORTFOLIO ENERGY INVESTMENT FORUM 2016:
Alpiq Csepel Kft.; Aon; Atomenergetikai Főosztály - Nemzeti Fejlesztési Minisztérium; British Embassy Budapest; Budapesti Erőmű Zrt.; Canadian Embassy to Hungary, Slovenia and Bosnia and Herzegovina; Central European University Business School and in the Department of Environmental Sciences and Policy; CEZ Magyarország Kft.; Citibank Europe plc Magyarországi Fióktelepe; Energiagazdálkodási és Bányászati Főosztály - Nemzeti Fejlesztési Minisztérium; Energiaszabályozási Főosztály - Nemzeti Fejlesztési Minisztérium; Energy Hungary Zrt.; Energy Regulators Regional Association (ERRA); ENKSZ Zrt.; E.ON Hungária; E-OS Energiakereskedő Zrt.; Faludi Wolf Theiss Ügyvédi iroda; FŐGÁZ Zrt.; Get Energy Magyarország Kft.; GDF SUEZ Energia Holding Hungary Zrt.; IP Systems Kft.; ISD POWER Kft.; KPMG; KPMG Tanácsadó Kft.; Mátrai Erőmű Zrt.; Magyar Energetikai és Közmű-szabályozási Hivatal; Magyar Export-Import Bank Zrt.; Magyar Mérnöki Kamara; Magyar Telekom Nyrt.; Manitu Solar Kft; MEKSZ – Magyar Energiakereskedők Szövetsége;; MET Magyarország; Metro Kereskedelmi Kft.; MKB Bank Zrt.; Microsoft Magyarország Kft.; MOL-csoport; Mosaic Energy Kft.; MVM ERBE Zrt.; MVM Magyar Villamos Művek Zrt.; MVM Paks II. Zrt.; MVM Partner Zrt.; MVM OVIT Zrt.; MVM Zrt.; Nemzetközi Energiaügynökség (IEA); Oppenheim Ügyvédi Iroda, OT Industries Zrt.; OTP Bank Nyrt.; Paksi Atomerőmű; PwC Magyarország; Regionális Energiagazdasági Kutatóközpont (REKK); S Advisor Kft., Sarkcsillag Invest Kft.; Sberbank Magyarország Zrt.; SGS Hungária, siMentat Kft.; Stratégiai és Energiapolitikai Főosztály - Nemzeti Fejlesztési Minisztérium; Szeged Energia Zrt.; Szikszói Ipari Park Kft.; Takarékbank; TAM CERT Hungary Kft.; Torus Energy Kft; TÜV Rheinland Intercert Kft.; Uniper Hungary Kft.; Unicredit Bank Hungary Zrt.; Weil, Gotshal & Manges LLP; Wärtsilä Hungary Kft....
THE EVENT:

DATE: November 8, 2016.
PLACE: Hotel Hilton, Buda Castle
Hess András tér 1-3., 1014 Budapest
Hotel Information, Map & Location
COST: 84,900 HUF + VAT /person
Fee includes: conference documentation, full lunch and coffee breaks.
The conference is bilingual with English-Hungarian simultaneous interpretation.
DISCOUNTS:
- 20% discount is available for 2 registrations,
- 30% on 3 or more.
Discounts cannot be combined!


Our conference is expected not only to provide an opportunity to expand the participants' knowledge base, but also to create an excellent forum for high-level networking and the forging of new professional relations. Our goal is more than just to organise another cut an dry event; we strive to make this conference a regular, interactive and international forum that keeps its finger on the pulse of the market.
Our goal is to create a forum where decision makers, experts, market players and corporate leaders can discuss these issues ogether, evaluate the situation and have a debate on what short-termand long-term solutions they find best.

OVERVIEW:
Portfolio Conferences are organized by NET Media Inc, member of Central European Media and Publishing Group. Our events cover 7 different industries and attract more than 8000 participants annually and highly renowned for their great opportunities of networking and building business relationships, merely not just giving new professional knowledge. Our aim is not to have a one time occasion event, but creating a yearly international interactive forum about the changes of the market. Find out more on www.portfolio.hu/en or conference@portfolio.hu (e-mail).
Who should attend?
The conference may provide essential information to
Energy companies
Banks
Lawyers
Large consumers
Regulatory and supervisory bodies
Consultants
Investors
Investment funds
Venture capital companies
Professional associations
Contractors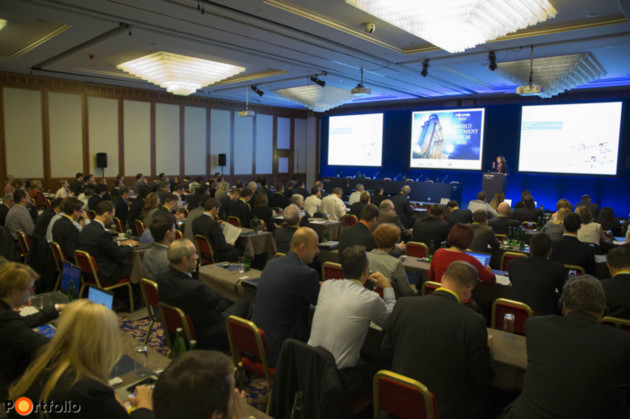 Energy Investment Forum 2016 | 30 photos
ADDITIONAL INFORMATION:
Program:

Sponsorship:
Csilla Kiss , Key-Account Manager, Phone: +36 1 472 2098, E-mail: kiss.csilla@portfolio.hu

Organisation, general questions:

Energy Investment Forum 2016
2016.11.08
Moderators:
Speakers:
Energy Investment Forum 2016
2016.11.08
Print events
08:20-08:50 - Registration
SECTION I: The future of the Hungarian energy sector, direction of development
SECTION II: Energy foreign policy in the EU, in the region and in Hungary
SECTION III: Innovation and new trends in the energy sector
SECTION IV: The converging European energy market, the practical implications of the EU and Hungarian regulatory changes
Energy Investment Forum 2016
2016.11.08
84 900 HUF + VAT/person
275 EUR + VAT/person
The fee contains the documentation of the conference, the buffet lunch and the coffee breaks. The languages of the conference will be Hungarian and English. We provide a 10 % discount for the registration of two persons, 20 % discount for the registration of three.
We do not send any kind of ticket or voucher. Each participant is added to the conference registration list upon online check-in, which also includes the lecturers and the sponsors' guests. The participants will only need a business card and a signature at the conference location, entering the event at the registration desk. Following a quick registration our guests may enter the area of the event.

We will send a confirmation email in the case of online registration. (The data and the "Conditions of Registration, Payment and Cancellation" have to be accepted during registration.) We will send a Fee Requesting Notice by email based on the data that are approved in the course of registration after the acceptance the "Conditions of Registration, Payment and Cancellation". The fee has to be paid within 8 workdays of the confirmation of the registration. The invoice will be issued after payment. We will post the invoice to you to the address that is given in the registration. An online application is classified as an order. Paying the participation fee in advance is a prerequisite of participating at the event. We accept cancellations and provide a full refund - EXCLUSIVELY IN WRITING at the address of conference@portfolio.hu - till 12 hours on the fifth workday before the event. In the case of cancellations made after this time the participation may be assigned, but the complete fee has to be paid. We are not in a position to accept cancellations made via phone or in any other verbal form. It is not possible to cancel participation in the case of registrations that are made after the cancellation deadline. In the case of registrations made 1 or 2 workdays before the event it may happen that the transfer of the participation fee will not be credited to our bank account yet, therefore in this case it is possible to transfer the fee on the first workday after the event. Since online applications are classified as orders, we are not in a position to accept ex post complaints - including absence from the event, because of the lack of transferring the fee - after the cancellation deadline. The complete fee has to be paid in this case as well - provided no written cancellation was received by us till the cancellation deadline.
Ilyen volt az év ingatlanos eseménye
2015. november 24-én immár tizenegyedik alkalommal rendeztük meg a hazai ingatlanpiac legfontosabb szakmai rendezvényét, a Portfolio Property Investment Forum konferenciát.
...
More videos...
Business and Finance Summit 2017
The first coorganised conference of the Credit Management Group and the Portfolio
More galleries...