Hungarian households hot on shares, holdings reach new all-time high
The stock of shares held by Hungarian households reached a new record in May, and this time the change was not caused by rising share prices rather than by share purchases, according to statistical figures published by the National Bank of Hungary (MNB).
Hungarian households held a record HUF 735 billion worth of shares in May, the latest MNB statistics show. This corresponds to a 30% jump compared to the end-2018 level and a 28% growth over May last year.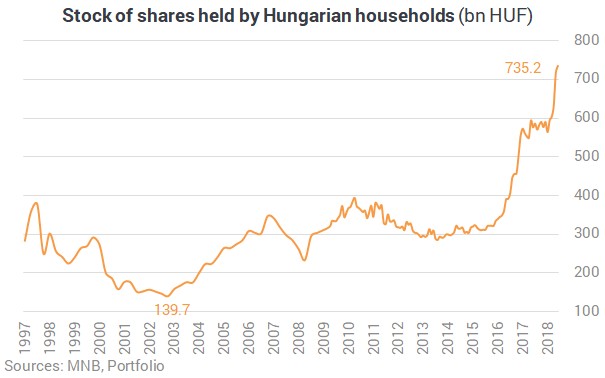 There was a surge in the stock of shares held by households around 2016 and 2017, whereas last year the stock mostly just stagnated, and another sharp increase was recorded in 2019. The steep climb in 2017 was ensured by rising share prices, but the Budapest Stock Exchange (BSE) no longer performed that well in 2018, so the new peak occurred mainly because households were piling up shares.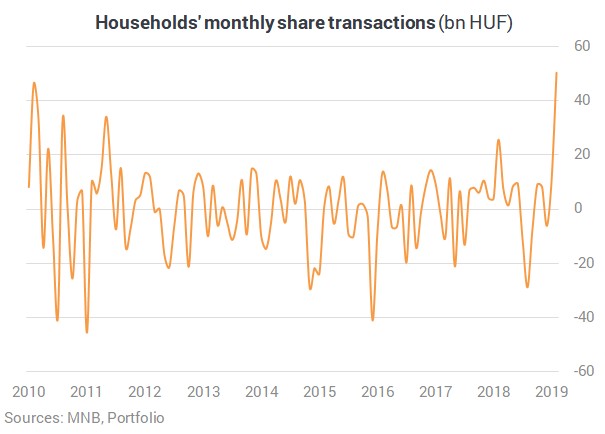 Share purchases revved up again in May this year, and the previous record was broken, while the BUX index fell 3.8%. This is also attested by the fact that the monthly revaluation shows a huge minus for May, HUF -33 billion to be exact.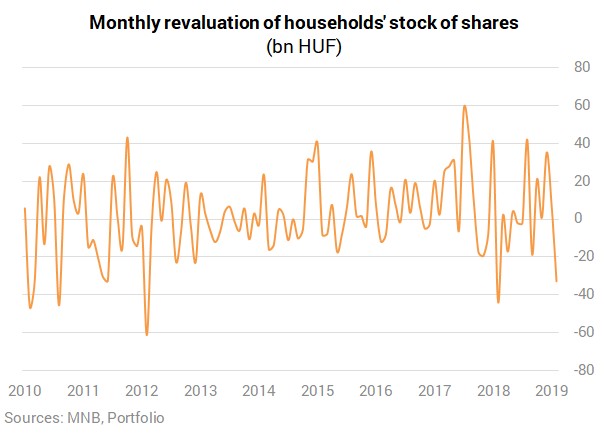 Assets held by brokerages declined 1.4% over April to HUF 2,811 bn in May, while in a year-on-year comparison this still marks a 4.8% increase. The stock of both HUF-denominated and FX securities contracted over April by 1.4% and 1.2%, respectively.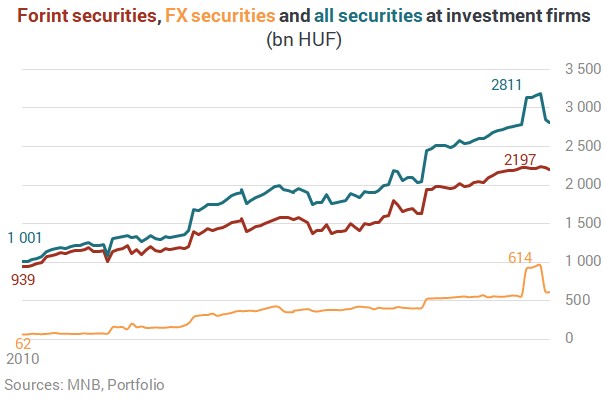 As regards the savings accounts, the descending trend continued at Retirement Savings Accounts (NYESZ), the number of which dropped to below 110,000, a 6% yr/yr decline. The volume of securities held on such accounts shrank 4% in annual terms.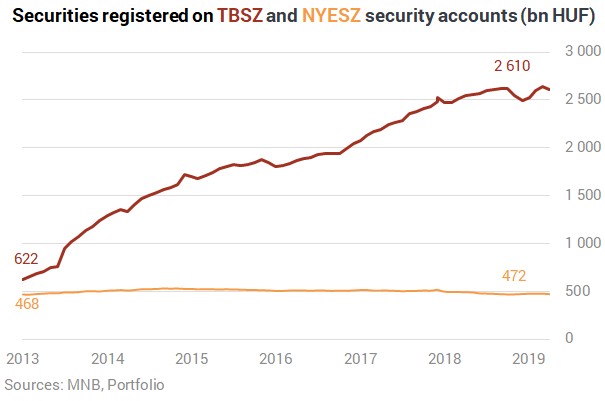 The number of Long-Term Investment Accounts (TBSZ) also dropped over April, but not much (-0.1%), whereas the yr/yr decrease was larger at 11%. The stock of securities held on these accounts also diminished slightly over April, but it was up 2% yr/yr.