Csányi's Singapore-based fund big support for OTP
After 2016, OTP Chairman-CEO Sándor Csányi's Singapore-based fund is piling up OTP shares again. It purchased another minor package on Tuesday.
Sertorius Global Opportunities Fund, associated with OTP Chairman-CEO Sándor Csányi, acquired 35,000 OTP treasury shares on the Budapest Stock Exchange (BSE) on Tuesday at an average price of HUF 9,780 per share for a total of HUF 342 million, giving 3.6% of total turnover with OTP shares yesterday.
The Singapore-based fund started to be filled up with OTP shares in 2016. In that year alone, it bought HUF 8.2 bn worth of OTP shares. After a long gap, however, it started to pile up OTP shares again and the count is nearly up at HUF 8.1 billion this year, taking the total tally to HUF 16.3 bn.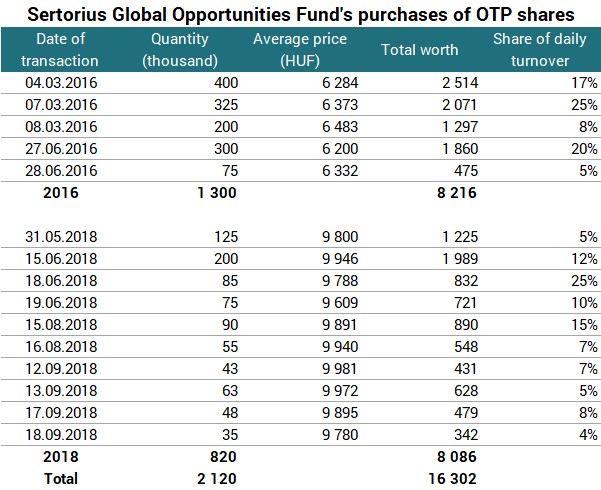 OTP's share price edged up 0.7% yesterday, while it is currently down 0.3%.