Respiratory infections linger, flu season over in Hungary
After a surprise rise last week, the number of Hungarians seeking medical help with severe acute respiratory illnesses has dropped again on the 20th week of 2023 after a persistent retreat since the 9th week of the year. The number of people going to the doctor with influenza-like symptoms per 100,000 inhabitants fell to 4,500, which marks a 19.6% w/w decline, according to the latest report, and likely the last until next winter, of the National Centre for Public Health (NNK).
Last report this spring, flu epidemic says goodbye until next winter
After a surprise uptick (+1.8%) in the number of people seeking medical help with severe acute respiratory infection (SARI) we see a w/w decline again on the 20th week of the year, for which the NNK reported 116,900 people going to the doctor with SARI, down 4.4% in weekly terms (122,300). 4,500 (3.8%) of them were diagnosed with influenza-like illness, in contrast with 5,600 (4.6%) a week earlier.
If it were not for the holiday season when people are less inclined to visit the GP's office and complain about "just a wee cough", we would not see that dip towards end-2022 in the lines below.
Here's another chart attesting the peak in the epidemic was left behind three months ago.
The number of flu-like symptoms dropped 19.6% w/w, more sharply than two weeks ago (-11.1%).
A breakdown of the positive samples show the high prevalence of the flu, followed by SARS-CoV-2 and RSV. The graph shows percentages of cumulated data, with the x axis showing the weeks starting on the 40th week of 2022 up to the 20th week of 2023.
OF THE 17 RESPIRATORY SPECIMENS (down FROM 34 A WEEK AGO) SENT IN BY DOCTORS, none WAS FOUND TO BE INFLUENZA OF SOME TYPE, one (5.9%) was SARS-COV-2, AND ZERO PATIENTS HAD RESPIRATORY SYNCYTIAL VIRUS (RSV).
This compares with 2.9%, 11.8% and 0% the week before, respectively.
On the 20th week, 93 people were hospitalised (120 on the preceding week) for severe acute respiratory infections, 16 of whom (17.2%) required intensive care (16 (13.3%) a week earlier). Of the 93 patients, 19.4% (18) were aged 2 years or younger (versus 24.2% or 29 a week ago) and 49.5% or 46 people were aged 60 years or older (versus 51.7% or 62 a week ago).
Of the patients requiring hospital care, zero was affected by influenza (also zero on the previous week), 22 or 23/7% by SARS-CoV-2 (down from 33 or 27.5% a week earlier) and none by respiratory syncytial virus (RSV) (vs. 2 or 1.7% a week earlier).
All of the patients (22) hospitalised with coronavirus infection were older than 60 years of age.
The age breakdown (see the four graphs below) shows that SARI affected primarily children, and to a smaller extent young adults since the 40th week of last year, while flu-like illnesses started to "pick on" children, adolescents and young adults from the fourth week of 2023 and it remained so up to about the 14th or 15th week.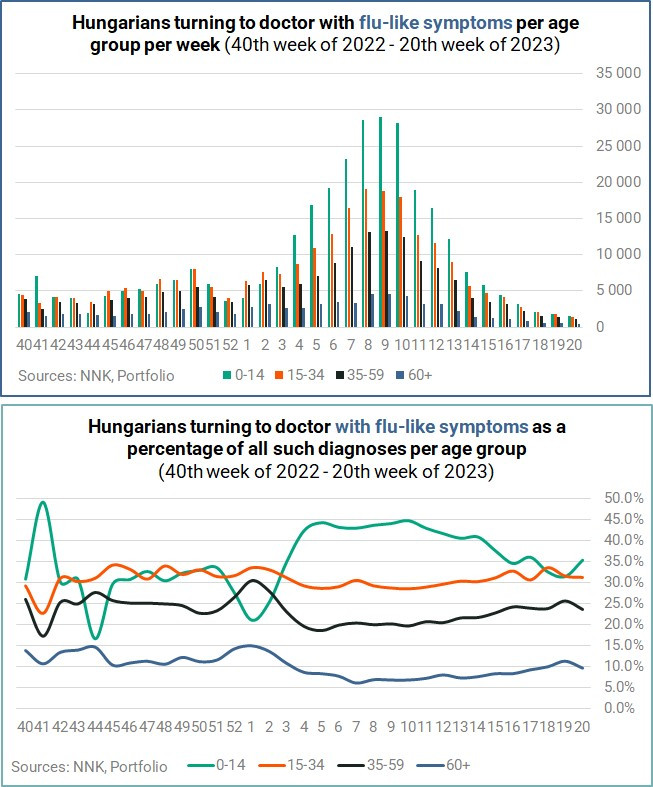 COVID-19 statistics
The weekly reports do not tell us much, except that there are very few cases, even fewer severe cases and deaths, and massive data volatility.
Cover photo: Getty Images