Europe braces for heatwave
Several European countries including France, Spain and Germany have issued public warnings regarding dangerous high temperatures as authorities seek to prevent heat-related deaths, the Financial Times reported .
"Hell is coming," Spanish meteorologist Silvia Laplana said in a tweet showing a time lapse of the approaching heatwave. Temperatures are forecast to exceed 40C in certain parts of Spain.
About half of France was placed on orange alert, the second highest warning, on Tuesday ahead of a "potentially dangerous" heatwave. A new French record of 45C is predicted for Friday in the south.
Germany is also readying for the heat as forecasts indicate temperatures of up to 40C on Wednesday, a new German record for June.
Extreme heatwaves are expected to become more frequent owing to climate change, particularly in Southern Europe, where the likelihood of heatwaves is already ten times greater than it was during pre-industrial times, according to Friederike Otto, acting director at the Environmental Change Institute at the Oxford university.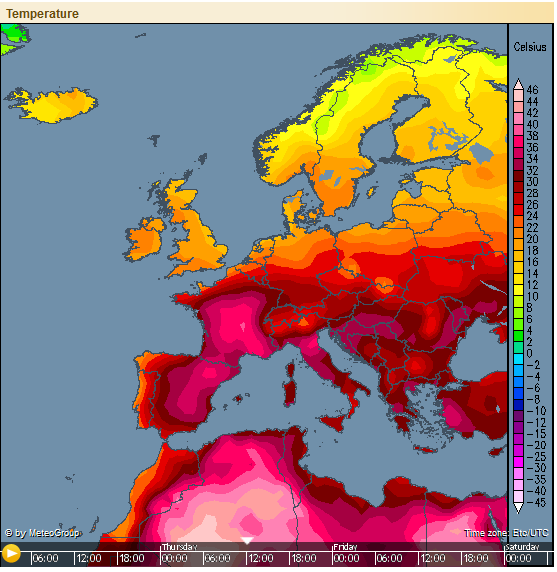 Forecast for Thursday noon, source: Meteocentrale.ch
Cover photo: Getty Images/Chesnot