Hungary is the most vehemently anti-refugee nation - survey
Three years after a record 1.3 million migrants sought asylum in Europe, a majority of people in several European countries say they support taking in refugees who are fleeing violence and war, according to a Pew Research Center survey. The two exception that stand out are Poland, and particularly Hungary. Also, despite the general support towards taking in refugees, most people in these countries disapprove of the way the European Union has dealt with the refugee issue.
About three-quarters or more of adults in Spain, the Netherlands, France and the United Kingdom support taking in refugees from countries where people are fleeing violence and war, according to a global survey conducted in the spring of 2018 that included 10 EU countries. Similar shares in Germany and Sweden - which saw large influxes of migrants seeking refugee status in 2015 and 2016 - back taking in refugees.
Even though Greece and Italy have been the main entry points into Europe for migrants in recent years, they still have majority support for taking in refugees. Notably, people in these countries generally expressed negative views toward refugees following the 2015 migration surge, Pew Research Center said in a
report
.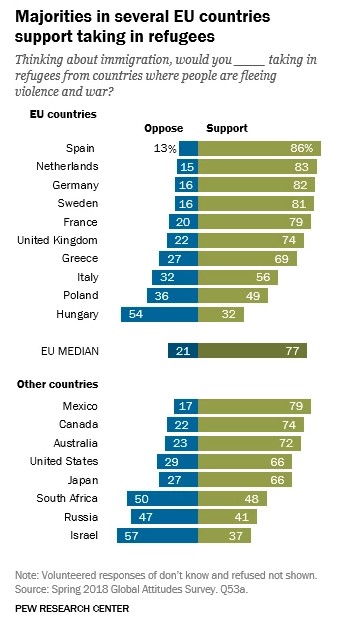 People in Poland and Hungary are less likely to support taking in refugees. About half in Poland (49%) voice support, and only about a third (32%) say the same in Hungary, where thousands of migrants sought asylum in 2015. 54% of the Hungarians polled opposed taking in refugees. Poland was next with 36% rejecting accepting those who fled violence and war.
In June, Hungary's Parliament
passed legislation
that made it a crime to assist asylum seekers and refugees - one reason why the European Parliament
recently voted
to pursue sanctions against Hungary for not upholding core EU values.
Discontent with how the EU handles the migration issue
While people in some EU countries support taking in refugees, there is widespread disapproval of how the EU has handled the refugee issue, the survey finds. In Greece, Sweden, Hungary and Italy, about eight-in-ten or more disapprove of the way the EU is dealing with the issue. In fact, across all 10 EU countries surveyed, majorities disapprove of how the EU is dealing with the refugee issue.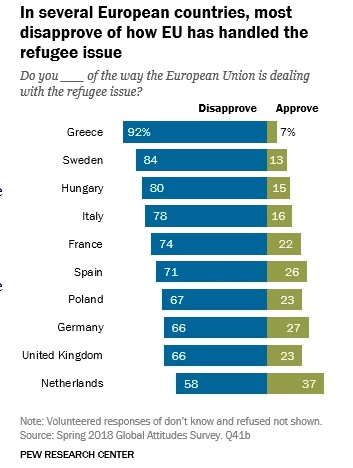 Europeans were not asked what elements of the EU's actions on refugees they disapprove of. However, disapproval levels in Germany, Hungary, the Netherlands and Sweden are at similar levels as in 2016, immediately following the migration surge.
In Hungary, 80% of respondents said they disapproved of the EU's methods, up from 66% in 2017 and 72% in the spring of 2016.
A previous Pew Research Center survey showed that majorities in most EU countries surveyed prefer that their national government, and not the EU, make decisions on migration issues.