We'll find out this week if Hungarian economy continued sprint or not
The key data in Hungary this week is clearly GDP growth data for the second quarter that are expected to tell us whether the expansion of Hungary's economic output started to decelerate or the country remains impervious to the external environment. Also, not one but two credit rating agencies are expected to publish their reviews on Hungary late on Friday.
The start of the week may appear to be dull.
On Monday
, only the central bank (MNB) will release its preliminary statistical balance sheet, but this could offer us some interesting facts. One of these will be the record whether the robust sales of the new retail government security (MÁP+) has already made an impact on the government's ready cash stock (KESZ account). The government's liquid reserves declined right after the launch of the new instrument, but it had to do with one-off factors.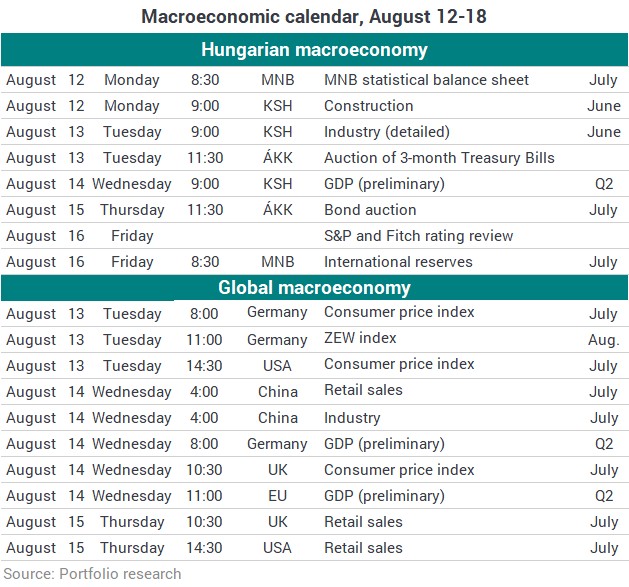 On Tuesday
morning, the Central Statistical Office (KSH) is set to publish detailed industrial production data, and key figures are to be released in Germany, as well. Markets, however, are expected to focus more in the U.S. CPI data to be published in the afternoon, given that the key argument by the Federal Reserve for a rate cut was the low inflationary pressure at the end of July. That is why the inflation print could be of key importance in respect of interest rate expectations.
On Wednesday
morning, the Hungarian stats office is set to release its first estimate for the country's Q2 GDP growth. The Hungarian economy grew by 5.3% year on year in the first three months of 2019, and we're about to find out whether this extremely rapid rate was maintained or growth has already receded in April-June. Eurostat, the statistical office of the European Union, is also set to release Q2 GDP data for EU member states, so we'll be able to compare how Hungary fared in EU terms.
On Thursday
, the only two foreign releases worth mentioning are the UK and U.S. retail stats. In Hungary, the MNB will disclose its international reserves figures on the last working day of the week. Also
on Friday
, Standard & Poor's and Fitch Ratings are expected to release the results of their review on Hungary's sovereign ratings, and an upgrade would not be a massive surprise.