University directors call on Hungary's Orbán cabinet to withdraw 'lex CEU'
Directors of London School of Economics, Hardvard University and University College London called on Hungarian Prime Minister Viktor Orbán's government in a joint letter to reconsider and withdraw new legislation that would essentially mean the end of the operation of Central European University (CEU) in Hungary. Orbán's cabinet is the first European government that seeks to close a successful university for political reasons, they said.
LSE, Harvard, UCL stand up against 'lex CEU'
The directors said in a letter published by
The Financial Times
that the amendment of Hungary's law on higher education sets conditions for non-EU higher education institutions which cannot be met:
the act would require the CEU to establish a campus in the jurisdiction of New York State in an unfeasible timeframe;
prevent it from delivering programmes or awarding degrees accredited in both countries;
prohibit it from operating under its current name; and
force it to adopt rules that would endanger the freedom and autonomy of scientific research;
the new law also demands that the U.S. federal government act as the negotiator to the Hungarian government, though higher education is a state competence and the U.S. government has no jurisdiction.
Although the government was defending the measure by saying that no institution is above the law in Hungary and so CEU must also comply with regulations, critics ponder that if CEU has not been compliant with local rules for years, why the government needed to create new legislation with the clear aim of making CEU non-compliant.
The directors also argue that "the act directly and deliberately threatens the existence of the most accomplished and internationally acclaimed university in the country."
We believe the closure of this distinguished private university would be an act of national self-harm by the government of Hungary, a tragedy for central and eastern Europe, and a blow to academic freedom and independence worldwide.
"The government of Hungary is the first European government in the 21st century to seek to close a solvent and successful university for political reasons."
The signatories of the letter urge Orbán's governement "
to reconsider and withdraw these measures.
"
"We also urge European politicians to comprehend the magnitude of this development, to speak up to defend academic freedom and autonomy, and to consider whether in current circumstances the governing party's membership of the European People's Party remains tenable."
Prof.
Erik Berglöf
- Director, Institute of Global Affairs, LSE
Prof.
Grzegorz Ekiert
- Director, Minda de Gunzburg Center for European Studies, Harvard University
Prof.
Kevin Featherstone
- Director, European Institute, LSE
Prof.
Jan Kubik
- Director, School of East European and Slavonic Studies, UCL
Dr. Uta Staiger
- Executive Director, European Institute, UCL
Mass rally against 'lex CEU', Orbán cabinet
A crowd estimated at
70,000 to 80,000 people
rallied in Budapest on Sunday evening against new legislation aimed at ousting Central European University (CEU). This was the biggest protest in Hungary for a long time, with about twice as many people demonstrating on the streets than against the planned 'Internet tax' in October 2014. This time, though, Hungarians protested not against a government measure that would take money out of their pockets, but for a foreign-linked university where about 80% of the cc. 1,400 students and 370 faculty members are from more than 130 countries. The rally may have been in vain, however, According to local daily newspaper Magyar Nemzet, President János Áder János Áder will countersign the law.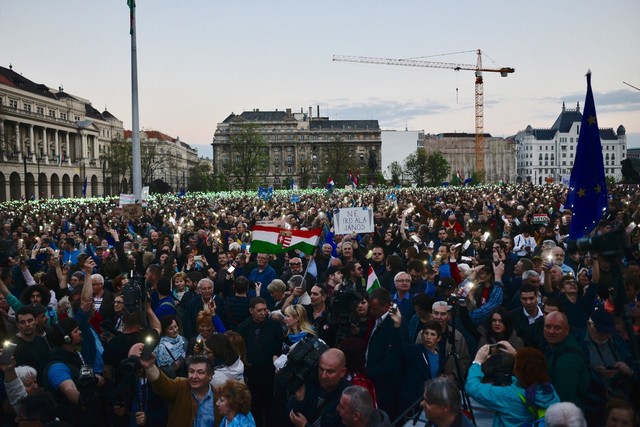 Tens of thousands rally in support of CEU and against Prime Minister Viktor Orbán's government at Parliament on 9 April 2017. Photo by MTI/János Marjai
You're not going to believe who organised the rally. Yup, it was Soros.
Meanwhile, pro-government media did everything to belittle the largest anti-government demonstration the streets of Budapest have seen in a long time. TV2's Tények ("Facts" hah!) programme said the crowd was much smaller than the organisers expected it to be. (Yeah, that is why the organisers relocated the demonstration just hours before its start, saying so many supporters would show up that the original location would not fit the crowd.)
Ripost.hu reported that "dozens of buses" were picking up sympathisers to transport them to the rally. In cities hosting Soros organisations
they have even been distributing air tickets to Budapest.
Szilárd Németh, Vice-President of the Fidesz party, went even further and added a new chapter to the government's conspiracy theories putting the blame on CEU-founder George Soros.
He actually told local newswire MTI over the phone on Sunday that [non-governmental] organisations actively funded by Soros have been attacking the Hungarian government relentlessly for two years, with the aim to "upset border protection and force the entry of illegal immigrants."
They are openly encouraging to violate Hungarian laws, he added. Németh stressed that Hungary must protect itself and the first step of that is transparency, referring to legislation in the making that would prescribe for NGOs to register with local authorities if they have a yearly overseas income of HUF 7.2 million.
Orbán is a stout critic of Hungarian-born financier George Soros and liberal civil organisations he is funding, along with CEU. The PM often said NGOs are doing the bidding of Soros.
Every Hungarian must know "who are Soros's people", and what funds and what interests are behind organisations funded from abroad, Németh said.
EPP, the own family of Orbán's Fidesz party, wants Fidesz out
Opponents of the law claim it is an attack on academic independence in general, while the Hungarian delegation of the European People's Party (EPP) group in European Parliament compared the actions of the CEU to George Orwell's dystopian Animal Farm.
Critics of the law have been "gravely mislead (sic) by the propaganda and private agenda of the American billionaire Soros" and are fighting with a "virtual reality," the Hungarians wrote in an email sent to their EPP colleagues Wednesday and obtained by
politico.eu
.
"As in the world of George Orwell's Animal Farm, there are the equals and there are some more equals (sic) than others."
Some non-Hungarian EPPs responded by questioning why Fidesz was even in their party.
The EPP's leader in Parliament, Manfred Weber, on Wednesday demanded the European Commission assess the law. "EU needs an independent serious evaluation rather than party political debates," Weber tweeted. "Freedom of thinking, research and speech are essential for our European identity. EPP group will defend this at any cost."
Freedom of thinking, research and speech are essential for our European identity. @EPPGroup will defend this at any cost. #CEU

— Manfred Weber (@ManfredWeber) April 5, 2017
Hungary's former Foreign Minister now European Commissioner in charge of education as well as sport, youth and culture has also criticised the law, saying CEU "is one of the most important higher education institutions not only in Hungary, but also in the European higher education system," Hungarian news portal index.hu reported.
"Therefore, I think it's important that after the correction of possible irregularities, it can continue to operate in Budapest undisturbed," he wrote.
Carlos Moedas
, the EU's research commissioner, issued a statement on Wednesday saying he was "deeply concerned" by the law, which "may set an unwelcome precedent for the autonomy of academic institutions in Hungary."
And Parliament's left flank has repeatedly called on the EPP to expel Fidesz MEPs.
"The Fidesz party no longer has a place in the EPP," politico cited Viviane Reding, an MEP from Luxembourg and a former justice commissioner. She believes her Christian Social People's Party (CSV) is the only one to take a firm stand, and she deplores what she considers the "silence and complacency" of other MEPs in the face of Orbán's "uninhibited populism."
If the democratic drift in Hungary continues, the European Union may consider placing Budapest under the
Article 7 procedure
of the EU Treaty, which provides for sanctions against a member state, the spokesperson from the European People's Party (EPP) warned last week.
EPP spokersperson and MEP Siegfried Muresan told Euractiv that sanctions against Budapest were still an option.
If the situation with Hungary continues, Article 7 might be put on the table," he warned.
Euractiv highlighted, though, that as Article 7 is seen as a "nuclear bomb" - a deterrent that should never be used - the EU introduced the "rule of law" mechanism, under which Poland currently finds itself.
Article 7 of the Lisbon Treaty, which has not been used until now, was designed to defend the EU's core values such as democracy, freedom, human rights and the rule of law. If the EU notices a "serious and persistent breach" of these values it can activate Article 7 and suspend membership rights, such as voting in the EU Council or access to the single market.
Front page photo by Portfolio