Hungary may become growth champion for the first time this year
The Hungarian economy can grow by 4.5% in 2018, analysts at UniCredit projected on Wednesday. The upbeat prognosis is outstanding not only in Hungarian terms, but also in the entire Central and Eastern European region. If UniCredit is right, this year could be the first when Hungary's economic growth is the highest in CEE.
UniCredit's 4.5% GDP estimate for this year is way over the market consensus, but several other analysts may follow suit and raise their forecasts in light of the favourable Q1 GDP reading.
UniCredit expects 4.0% plus growth in Bulgaria, Poland, Romania and Turkey, as well, which means the region could do really well this year. The bank uses an interesting CEE category, which excludes the Baltic States, but it includes some countries that are not member of the EU (Serbia, Bosnia-Herzegovina, Turkey).
If we compare the growth estimates for these economies, the forecast for Hungary is the highest.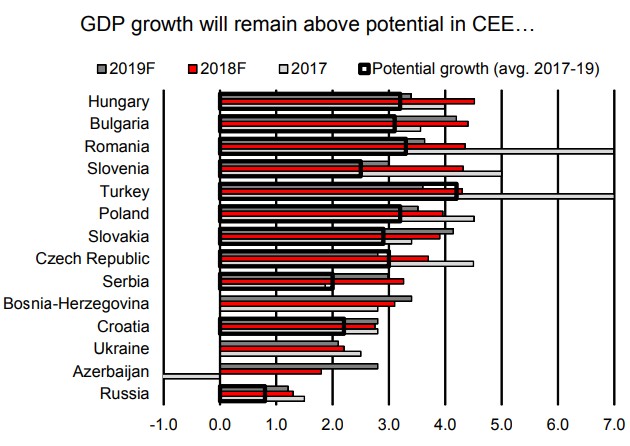 For the sake of "fun" we have taken a look at how the Hungarian economy fared in relative terms in this group since 1996. Hungary's GDP growth was the second highest in this region in 1998 and 2014, but it has never been the highest. Quite the contrary, Hungary was the last in the growth ranking in 2016, just like in 2006 and 2007. The country's growth rate was constantly in the lower section of the ranking between 2002 and 2012, so if UniCredit is right about this year's growth, it would be quite a feat. We should also note, however, that the estimates for other economies are close to the one for Hungary, so it will be quite a competition.
UniCredit expects Hungary's growth to accelerate to 4.5% this year but fall sharply to 3.4% in 2019.
Fast net wage growth and releveraging will support consumption and private investment. Public investment may grow more slowly due to a gradual depletion of allotted EU funds. Inflation could stay below target this year and inside the target range in 2019, prompting the NBH to remain dovish. Fidesz is expected to win parliamentary elections and may face a stronger backlash from the EU if it does not moderate its messages
, commented CEE chief economist Dan Bucsa and Ágnes Halász, chief economist at UniCredit Hungary.