COVID-19: Zigzag shows improvement in key stats in Hungary this time
All key COVID-19 statistics show improvement in Hungary for the seven days ended on 24 January. We could easily see the exact opposite next week, though, as we've seen a baffling worsening of some figures in recent weeks.
Hungary has never been famous for the abundance, accuracy or transparency of its Covid statistics, and the situation was made worse (if that's even possible) when the official government site stopped publishing even the weekly set of data altogether as of 1 January 2023. The site itself is no longer available. It's but a fading (bad) memory by now.
We (i.e. the press) get access to Covid stats via state-run newswire MTI. The latest set of figures shows improvement on every front, but a single look at either the table below or the subsequent graphs will reveal how cautious we need to be when interpreting the weekly changes.
The ratio of people in hospital and on ventilator rose to an alarming level the week before last (to nearly 12% from 5%), only to retreat abruptly to 2.3% by yesterday.
The ratios showing deaths per hospitalised patients and deaths per ventilated patients oddly moved in opposite directions.
Another key indicator of the progress of the pandemic has also start to rise after a brief retreat for a fortnight. The following chart uses an indicator conceived by Balázs Pártos, an enthusiast with a medical background who was keeping a very close eye on the pandemic and made rather accurate estimates based on the CFR/OCC ratio. CFR = [deaths / confirmed cases], OCC = [deaths / (deaths + recoveries)]. This may be one of the best (simple) indicators as to where the pandemic is headed.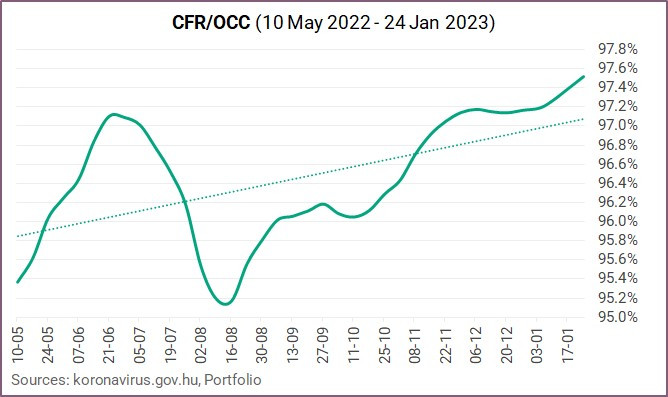 Vaccination
With a daily average of 384 doses administered (down from 454 a week ago) it makes very little sense to even address COVID-19 shots. But here you go anyway. A total of 2,690 doses of COVID-19 vaccines were administered over the past seven days, down 15% w/w, which follows a 12% and 404% (!) growth in the preceding weeks, respectively.
Cover photo: Getty Images